our

News
2019
Coach Bus Parts SEO Audit
March 5, 2019
A complete site SEO audit has been performed by DSD Web Works on the very active and successful Coach Bus Parts website (www.CoachBusParts.com). Findings from the audit will be formally presented to Coach and Equipment and a thorough strategy will be laid out to go forward in maximizing efforts to better server content to those looking for their products. As a result of these efforts, Coach Bus Parts will continue to grow revenue and increase their growing share within this industry. We look forward to having our expertise continued to be applied and, most importantly, result in positive sales growth.
---
Cornell University Web Accessibility Efforts Aided by DSD Web Works
March 1, 2019
DSD Web Works has reached significant progress on helping Cornell University reach their goal of all web content conforming to W3C's Web Content Accessibility Guidelines (WCAG) 2.0. Cornell is committed to diversity and inclusiveness, with the goal of providing an accessible, usable, and welcoming environment to all. To this end, DSD Web Works was contracted to bring all eleven regional agricultural team sites into compliance. As a result of our efforts, all eleven team sites have obtained Accessibility Scores with a range between 93.1 and 97.3 (out of 100).


The group of eleven sites are considered early adopters with regard to these efforts as the goal was to reach near compliance by 2020.


We thank Cornell University for the opportunity to help and to assure that people with a diverse range of hearing, movement, sight, and cognitive abilities can easily navigate and use Cornell web properties.
---
Cornell University Renews Contract
February 27, 2019
Today Cornell University renewed an annual contract for DSD Web Works to maintain all ten regional team agricultural programs along with the Harvest New York program. We are delighted to continue are long running relationship with the Cornell programs and look forward to another year of both maintaining the 11 web properties and offering routine enhancements which better help in the continued efforts in supporting agriculture throughout the State.
---
33rd Annual Chocolate Ball
February 2, 2019
The Chocolate Ball is a Rochester gala featuring elegant food, drinks, music, and a collection of exotic chocolate cakes from area signature cake chefs. The event raises money for Epilepsy Pralid, a non-profit organization that serves individuals with epilepsy, developmental disabilities, and brain injuries throughout the western and central regions of New York.
DSD Web Works was awarded with the winning bid for the prize winning 'The Cat In The Hat' masterpiece. The cake swept all awards by winning Best Taste, Best Showpiece, People's Choice and the Grand Prize! We have donated the sweet winnings to the wonderful staff and Strong's Department of Neurology.
We want to once again congratulate Melissa Savino (The Cake Place) for baking, designing and creating the big winner. It was, in our opinion, hands down the best tasting cake at the gala. To the design, see for yourself: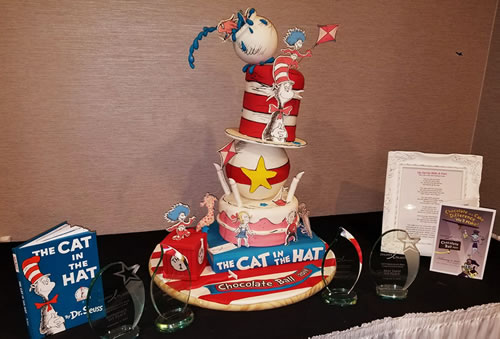 "We love being a part of The Epilepsy Pralid Chocolate Ball each year. Truly some of the nicest and most talented people work in our local (and Syracuse) bakeries. Honored to have received awards for Best Taste, Best Showpiece, People's Choice and Grand Prize this year. Everyones cakes were fantastic! But the best part of the evening was that our cake raised over $2,000 for Epilepsy Pralid - an incredible organization. #lovewhatyoudo - at Chocolate Ball 2019."
Melissa Savino, The Cake Place
---
Town of Wayne Review
January 24, 2019
Today DSD Web Works and various Town of Wayne personnel met to discuss 2019 projects going forward for the various Town projects as they relate to their web presence. Enhancements will be made to the Town main web site and more tools will be developed for the History groups application which has made substantial advances with inventorying and organizing their vast collection of historical information. In the near future, tools will be offered to the public to search all logged historical content held by the group. We once again, look forward to working another year with the Town of Wayne.
---
Granger Homestead & Carriage Museum
January 18, 2019
Today Granger Homestead & Carriage Museum reached out to DSD Web Works to request our interest in helping them develop an new complete custom web site and administrative backend to address all their Internet needs. Their current site is a bit dated and has limitation on managing the content. They are interested in a more user friendly administrative application to manage their content and a more professional, modern presentation of the site.
We look forward to the opportunity to share our ideas and knowledge for a solution that will meet and exceed all their expectations.
---
Coach and Equipment Manufacturing Site Released
December 12, 2018
Today DSD Web Works released the new fully responsive web site for the manufacturing division of Coach and Equipment. The new site is full of rich visuals that help portray the advanced manufacturing process used in constructing small and mid-sized buses. Coach and Equipment has a long rich tradition of manufacturing buses and coaches that actually date back to the early 1900's.
We have collaborated on many projects over the years with Coach and Equipment and were thankful for the opportunity to once again demonstrate our expertise is design and development on this latest project.
---
Cornell University - Web Content Accessibility Guidelines (WCAG) Compliance
November 30, 2018
Today representatives of Cornell University contacted DSD Web Works to take a lead on fulfilling the University's push for full WCAG 2.0 compliance. The University has numerous web assets and the request was to review all guidelines and direct adherence to those guidelines for a number of their web properties. The project is plan to begin in January of 2019 and result in full 2.0 compliance by the end of the year. We look forward to working with Cornell University once again and complete the project which will truly enhance accessibility for people with disabilities to a number of Cornell University web properties.
---
Curtiss Museum Migrates to Office 365
November 21, 2018
Today Glenn H. Curtiss Museum migrated their email serves to Office 365. The new communication platform will integrate smoothly with the museum's in-house Microsoft products and enhance their collaborative efforts within the museum and with collaborative association. We are please to help in the migration which was successful and resulted in a smooth transition.
---
LJH Management Request Quote
November 8, 2018
Today members of LJH Management met with DSD Web Works to discuss the development of a custom CMS application to help manage their diverse property portfolio. Needs were assessed and explanation of our approach was given to help LJH make a decision on what direction they will pursue in regard to their digital footprint. Emphasis was placed on the development of custom management tools and marketing strategies.
We look forward to the possibility of future collaborative work.
---
Finger Lakes Landlord Association Workshop
October 11, 2018
AGENDA: Details and step by step instruction on website login, member page, member account profiles, property entry, tenant assignments, entering evictions and judgments, resources, proprietary news and events


LOCATION: Newark Kountry Club 2 Country Club Drive, Newark, NY 14513 (Yes, this is the old Newark Country Club facility.)
Bar and Restaurant are open before and after meeting for purchasing your own food and drinks.
MEETING TIME: 6:30pm - 8:00pm
BRING: Your own laptop (Facility has Wifi) and/or Notepad.
---
Coach Bus Parts Site Release
October 10, 2018
Today Coach & Equipment and DSD Web Works released the newly designed Coach Bus Parts web site. The new site is now fully responsive (i.e. responds to any size screen seamlessly) and has a more modern flair. The site is a very active e-commerce site that is responsible for all bus parts sales for the organization. Proper steps were taken to transition from the old site to the new in order to maintain the very high rankings among search engines that the company has benefited from for years.

DSD Web Works looks forward to the long standing, continued relationship that we have built with this wonderful corporation whose origins began in 1895. We have been lucky enough to work with them since 2004. We have been involved in many different projects throughout the years including e-commerce applications, various APIs which allow for different systems to interact with each other, multiple web sites, document management tools and our latest project, the complete custom design of a bus configuration application.
---
more

Archived News